So I get a lot of tattoos, and it's been difficult for me to donate blood because in the past you have had to wait a year. Well the Central California Blood Center has now lifted the one year waiting period, you can get a tattoo and donate on the same day if you wanted to! Here is some information from with Facebook page and pictures of when some of my friends and I went and donated. I just got a tattoo from Steve Easley at Sacred Tiki Tattoo, in fact it is the traditional rose and banner that says "Donate Blood" found on the Central California Blood Bank posters.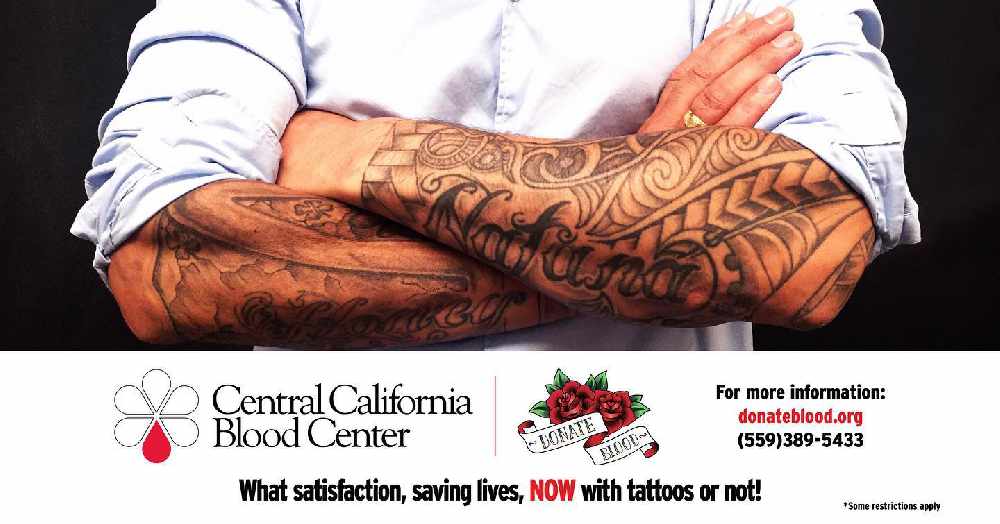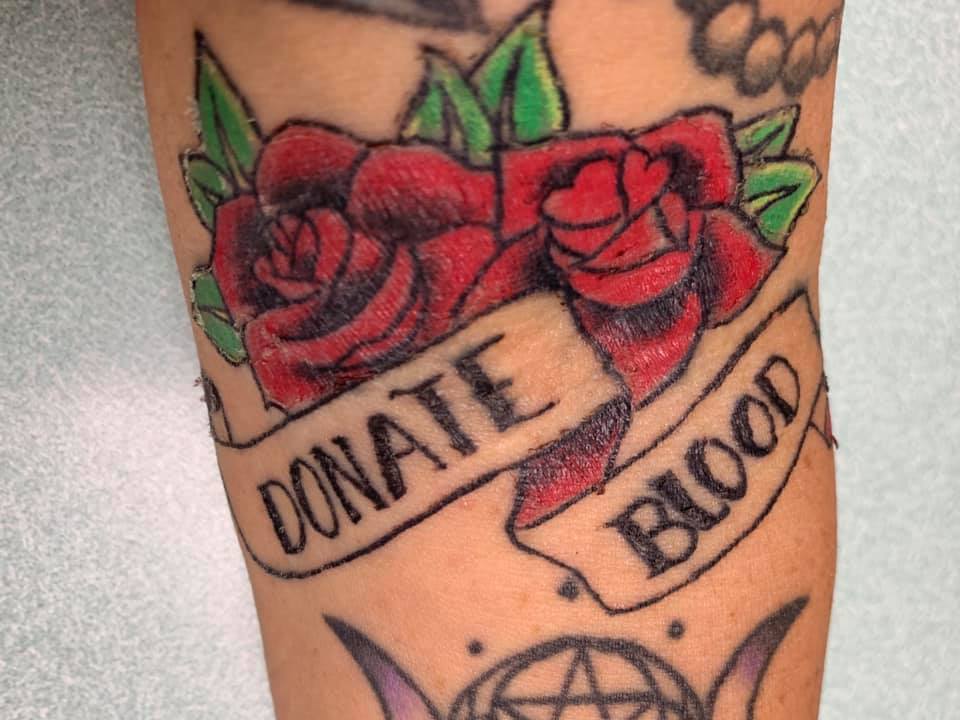 NEW TATTOO POLICY
You are no longer ineligible to donate blood just because you've gotten a tattoo!
You can now donate with no deferral due to tattoos. Stop in this week and help save someone's life.
For more information on the change in policy, see the FAQ Sheet or give us a call at (559) 389-5433.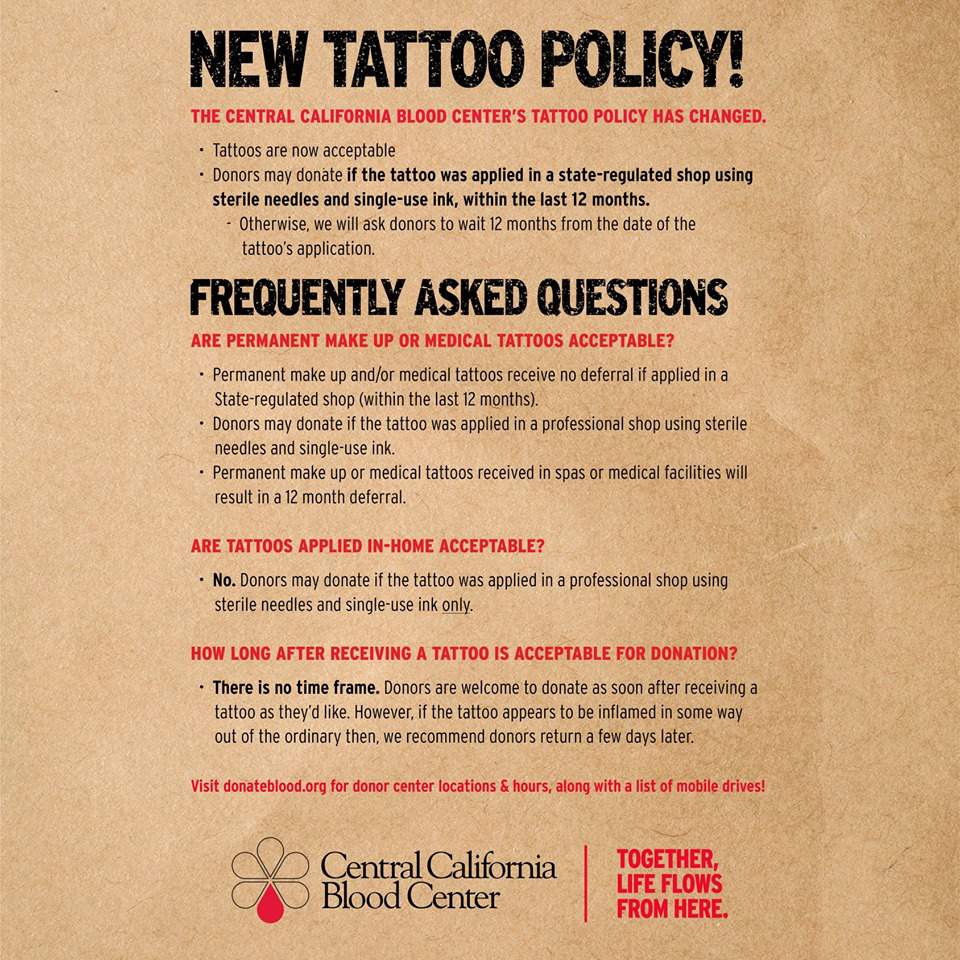 6,000 pints of blood must be collected per month to meet the needs of patients in our Central Valley Community.
We're in Your Neighborhood
The Central California Blood Center is committed to saving lives and improving patient care by providing a safe and abundant blood supply for the patients and families in the communities we serve. We provide blood and services to patients who receive care at various hospitals and their network of facilities in five counties.
Give Life to Your Community
By donating at a Central California Blood Center location near you or a mobile blood drive held every day in the Central Valley, you can help to ensure an abundant supply of blood and blood products are available for your family, friends and neighbors when they need it.

Find a mobile blood drive near you: www.donateblood.org/donateblood/blood-drive-schedule

To learn more, visit: www.donateblood.org
Book an appointment: 559-389-5433
Donor Center Locations in Fresno and Visalia:
Jenny Eller Donor Center
4343 W. Herndon Avenue, Fresno, CA 93722
Monday - Friday: 9:00 a.m. - 6:00 p.m.
Saturday: 9:00 a.m. - 3:00 pm

Fresno Donor Center
1196 E. Shaw Ave Suite 102, Fresno, CA 93710
(Between First and Sixth, on the North Side of Shaw Avenue)
Monday: Closed
Tuesday: 12:00 p.m. - 7:30 p.m.
Wednesday: Closed
Thursday: 7:00 a.m. - 2:30 p.m.
Friday: 9:00 a.m. - 4:30 p.m.
Saturday: 8:00 a.m. - 3:00 p.m.

North Fresno Donor Center
1010 East Perrin Avenue, Fresno, CA 93720
Monday: 6:00 a.m. - 1:30 p.m.
Tuesday: Closed
Wednesday: 12:00 p.m. - 7:30 p.m.
Thursday: Closed
Friday: 9:00 a.m. - 4:30 p.m.
Saturday: 8:00 a.m. - 3:00 p.m.

Visalia Donor Center
1515 South Mooney Blvd., Visalia, CA 93277
Monday - Friday: 9:00 a.m. - 6:00 p.m.
Saturday: 9:00 a.m. - 3:00 p.m.