Kids To College Story
Below is info on why we are put together the Kids To College campaign!
The Why: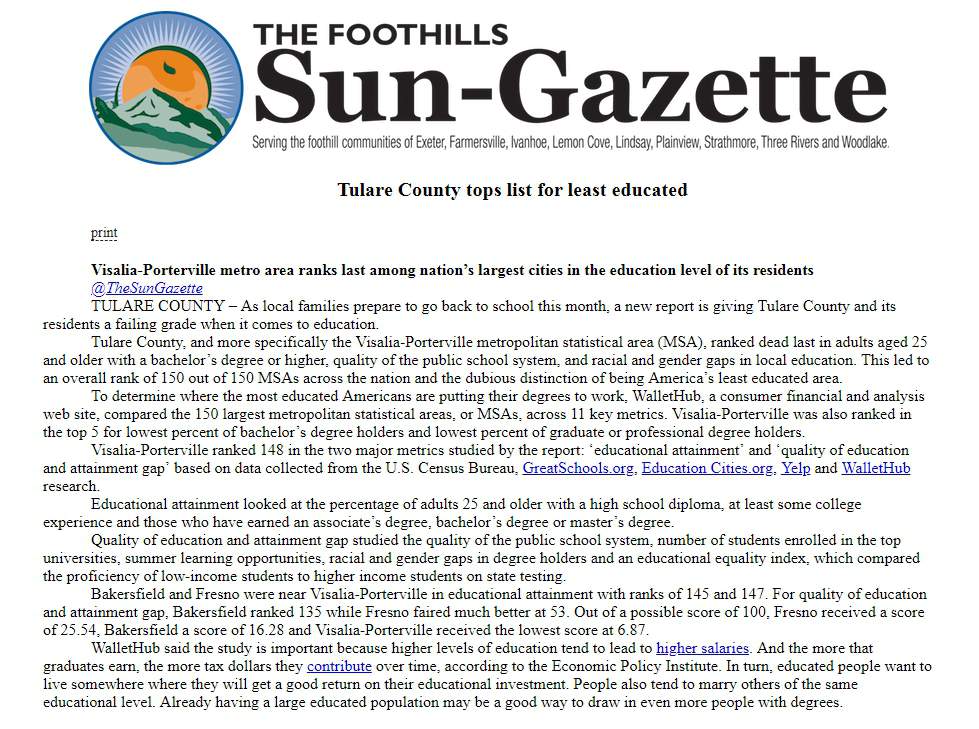 KIDS TO COLLEGE
CONCEPT HISTORY
Finishing 150th
The idea for the KIDS to COLLEGE program was born from an article that first appeared in the Exeter Sun-Gazette (enclosed) regarding the Visalia-Porterville Metro finishing dead last, 150th, in educational attainment, as determined by WalletHub. Looking for ideas, we met with Dr. Todd Oto and Dr. Melanie Stringer of the Visalia Unified School District. We discussed a number of different options that might help get "at risk" youth interested in academics.
After meeting with the Administrative Staff of the Visalia Unified School District, Momentum Broadcasting and Visalia Unified determined that reaching at-risk fourth grade students would be the best way to effect a change, as this age group was the most impressionable, and not set on an internal point of view that matched external pressures. It was also decided that due to the dire nature of the crisis it would be necessary to attempt to involve one thousand students, fully half the class, based on the School Districts best guess of the status of their students.
KIDS TO COLLEGE
CONCEPT HISTORY
The Challenge
We at Momentum Broadcasting we would take the challenge: Sending one thousand fourth graders (and one of their parents) on a day excursion to a world class California University (Stanford, Berkeley, UCLA). To do that we have to raise one hundred thousand dollars ($100,000) and in doing so we will send half the fourth grade class students, and impact all 23 elementary schools in the district.
OUR MISSION
The mission of the Kids To College Project is to help the children of the Visalia-Porterville Metro (currently ranked 150th out of 150 metros for educational attainment*) to see college as a viable option. In doing so we at Momentum Broadcasting, Visalia Unified School District, and the G For Kids Foundation hope to create a learning environment in Visalia, and ultimately in Tulare County, where a college degree is the next step in personal development and growth leading to a rewarding professional career.
Currently the lifetime difference in earnings between a high school diploma and a college degree is $900,000. That number grows to $1,300,000 million dollars for a master's degree, and $2,100,000 for a doctoral degree**.
*As determined by WalletHub
**U.S. Census Bureau
OUR GOAL
The goal of the Kids to College Project is to send 1,000 Visalia Unified School District students plus a parent on a day trip to one of California's nationally and internationally recognized post-secondary academic institutions. The Project will provide transportation, chaperones, food and beverage, and coordination with each of the institutional partners in the program at no cost to the participating students. Estimated costs for the program are approximately $100,000. Significant financial support is being provided by the G For Kids Foundation, a 501(c)(3) charitable organization, which has agreed to donate up to $25,000 to be matched dollar for dollar by the fundraising efforts of Momentum Broadcasting. (Momentum Broadcasting is looking for two additional organizations to participate at the same level as G For Kids). Families will be chosen to participate based on an application process that reflects an interest from both student and family.